Unboxing Nokia 3310: Specs, Features and Price in Pakistan
Finally, courtesy HMD Global, Pakistan, we have gotten our hands on the much awaited Nokia 3310. HMD Global, along with the device also send us a notebook and a coffee mug with Nokia #3310 art.
The Nokia 3310 sent to us is Dark Blue in color with Matt Finish although we have set our eyes on Yellow one for our regular use.
On opening the box, the first thing you see is the device with the battery lying underneath.
There is also a MicroUSB Charger ( AC-18E) and 3.5mm generic headphone ( WH-108) along with mobile guide in Urdu, for which Nokia has to do a better job, as it seems they have run Google Translator on their English Quick Guide and made it an Urdu Fast Guide.
Overall, it's a generic approach by Nokia / HMD Global, with Nokia 3310 as the main star hitting all nostalgic points.
Nokia 3310 – The Legend has revived!
Pakistan's favorite Nokia launches legendary 3310 and yes it has the snake game. Famous for indestructibility and long battery life, the updated phone will really give odds to many smartphones.
Nokia 3310 is noticeably thinner than its predecessor as this time it's more rounded and reduced in size and have also got a 2.4-inch color screen and a megapixel camera. Nokia 3310's low power consumption makes it be able to provide more than 20 hours of talk time and nearly four weeks on standby, now that's amazing.
Old time fans of the previous legendary model of Nokia's 3310 will be really pleased to know that the new model also incorporates an update to the wildly popular snake game.
In addition, the funky smartphone will get a slot for microSD cards. Nokia Mobile 3310 will cost approximately 5,500 Rupees in Pakistan (estimated) with access to the different body colors like red, gray, yellow and blue. Finish Giant has revamped the classic Nokia handset but keeping the qualities that made original Nokia 3310 handsets so popular i.e robustness, durability and battery life.
The Finnish start-up HMD sets up a round of partnership with Foxconn to help manufacture the device. 3310 revivification Idea came up to HMD Global after a huge demand from the keen users. The designers at the company have slightly changed the overall looks of the iconic 3310 and now the original gadget is equipped with 2.4-inch QVGA-screen with a resolution of 320 × 240 pixels.
Supports Bluetooth, stuffed with two SIM-card slots, Nokia 3310 has a 2-megapixel camera with LED flash and a slot for microSD that can support large capacity cards.
The Finnish company has also announced that the all new 3310 by Nokia will go on sale in the second quarter of 2017, As we all know it'll take time for it to reach Pakistan so we have to wait a bit before getting our hands all dirty with the new Nokia 3310. For now, take your seats, hold back and sit tight.
Nokia 3310 Price in Pakistan
Rs. 6,490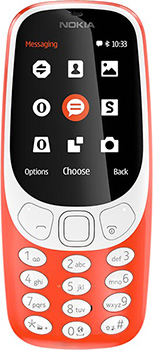 Please follow and like us: